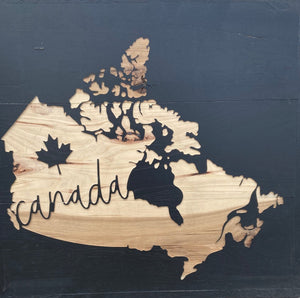 Wood Sign | Canada
Gaylord Hardwood Flooring
Regular price / Square Foot $0.00/ Square Foot $200.00 / Square Foot Sale
This product is available.
Custom Oak Sign

- O' Canada, Black Reverse- 
Crafted from solid wood and hand stained giving the sign a rustic vibe. This is a twist on the OG version of this sign. The black background makes this sign pop - it is a great option if you are looking for something darker for your space. Wood is a natural product and each piece is unique in character, graining, and colour variation, creating the ultimate custom piece for your home. The signs are finished with a sleek border stained to match your custom piece. 
When should I expect shipping?
Custom Signs are made to order and will take 2-4 weeks to ship, please account for this in your timeline. In a rush? Connect with us!