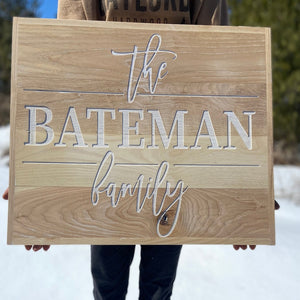 Wood Sign | Family Name Sign
Gaylord Hardwood Flooring
Regular price / Square Foot / Square Foot $200.00 / Square Foot Sale
This product is available.
Custom Wood Sign 
- Family Name Sign - 

This Family name sign is a great choice for almost anywhere in your space! Whether you would like this to hang, for your fireplace mantle, or have this hung outside your home - we love the clean look of this one! Simple, clean, and classic are the name of the game with this sign.
This handcrafted wood sign is customizable with your name and has the ability to be finished with white stain (like the photo) or black stain to give a slightly more rustic look. (If you wish to put this outside, black stain is recommended + exterior finish as well). Made out of wood and then hand stained and finished to your specs. 

Timeline: 2-4 weeks from the time of order!