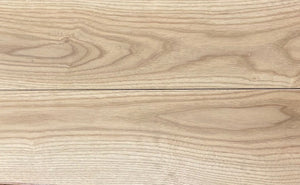 Engineered Ash Frost Prime Grade Matte Finish
Gaylord Hardwood Flooring
Regular price / Square Foot / Square Foot $7.99 / Square Foot Sale
We have 335 square feet in stock.
Engineered Ash Frost Prime Grade Matte Finish 

Ash Frost is the perfect muted neutral tone for your home. This Frost stain provides a fun twist on our natural ash muting some of the natural golden hues throughout. It is a great choice if you are looking for something with some character and grain, while keeping things on the mellow, neutral side. This material is 5/8" in thickness. 
Specifications:
Width -  5 3/16"
Lengths -  Up to 90" 
Grade - Prime grade - colour variation throughout 
Warranty- 40-Year Finish
Installation- Below, On or above grade
Installation Method- Nail & Glue Installation, Full Glue Down Installation, or Floating Floor Installation 
Ease of Installation- Easy-Medium 
Maintenance- Easy
Waste- 5-7%