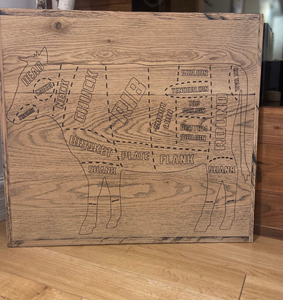 Wood Sign | Butcher
Gaylord Hardwood Flooring
Regular price / Square Foot $0.00/ Square Foot $225.00 / Square Foot Sale
This product is available.
Custom Hardwood Sign
 - Butcher - 
This is a fun choice if you are looking for something for your kitchen, man cave, or to hang in your local biz'. This practical and unique sign can add a little rustic or industrial vibe to your space. 
Crafted from solid wood and hand stained giving the sign a rustic vibe. The black staining technique highlights the grain and features of the sign.  Once stained, our signs are finished with our classic matte finish, creating an ultra natural look. Wood is a natural product and each piece is unique in character, graining, and colour variation, creating the ultimate custom piece for your home. The signs are finished with a sleek border stained to match your custom piece. 

When should I expect shipping?
Custom Signs are made to order and will take 2-4 weeks to ship, please account for this in your timeline. In a rush? Connect with us!