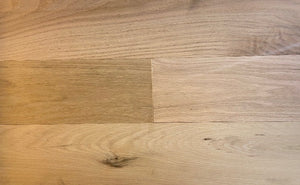 Red Oak Unfinished Hardwood Flooring
Gaylord Hardwood Flooring
Regular price / Square Foot $10.00 $5.00 / Square Foot Sale
We have 5460 square feet in stock.
Unfinished Red Oak Flooring 
Unfinished Square Edge red oak for your upcoming site finish project. Material is prime grade with some minor knots and character throughout. 
Specifications
Lengths  - up to 7' 
Width - 5"
Grade - Prime Grade - Colour variation with minor knots. 
Sheen- N/A
Texture- Unfinished 
Thickness- 3/4" Solid (5") 
Installation - On or above grade
Installation Method 
Solid - Nail or Staple
Ease of Installation- Easy
Waste- 5%
Janka Hardness- 1290
Box Size - 23sf/box