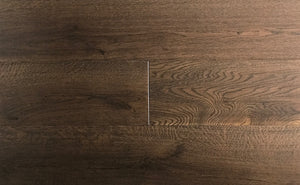 Wide Plank White Oak Hardwood Flooring Gingerbread
WOOD ORIGIN:
Midtown Collection
Regular price / Square Foot / Square Foot $12.99 / Square Foot Sale
This product is available.
Gingerbread Wide Plank Flooring 
The gingerbread stain is a dark finish that brings out several undertones of browns. It is a beautifully rich stain that goes very nicely with lighter shades which can contrast and balance it well. This stain color is relatively new being released in 2012. 
Live Sawn is a specialty cut of wood we do which enables us to provide our clients with a very wide and unique hardwood floor. It is very rustic with large knots, and varying grain patterns including rift sawn and quarter sawn.  A large majority of the grain is quarter sawn giving it incredible stability which is the reason we can offer it up to 10" wide.  A 7" Live Sawn board will shrink and expand roughly as much as a 4" plain sawn board making this floor the perfect option for a cottage.  For wide planks we recommend a nail and bead glue installation. The live sawn is a perfect floor for dogs because of its rustic charm and Wire Brushed finish.
Interior Decorator Advice: When going with a wide plank floor make sure to have long lengths


Specifications
Widths
Solid- 4", 6", 8" and 10"
Engineered- 7.5" and 9"
Sheen- 13% Matte Finish                
Texture- Wire Brushed
Thickness- 3/4" 
Character- Very rustic with large knots, checks, and splits.
Warranty- 40-Year Finish
Installation- 
Solid - On or Above Grade
Engineered - On, Above, or Below Grade
Installation Method- 
Solid - Wide Plank Installation Method
Engineered - Wide Plank Installation Method, Floating or Full Glue Down
Radiant Heat
Solid - Above Grade Wood Subfloor
Engineered - Above Grade Wood Subfloor or Concrete Subfloor
Ease of Installation- Medium
Maintenance- Easy
Waste- 10%
Janka Hardness on White Oak- 1360
Videos