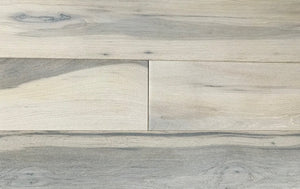 Hickory Monkey White Hardwood Flooring
WOOD ORIGIN:
Beach House Collection
Regular price / Square Foot / Square Foot $15.49 / Square Foot Sale
This product is available.
Monkey White was created in collaboration with design-build duo Zane and Emily Williams of Z Properties, a custom home builder based in Winter Park, FL. Drawing inspiration from the architectural and design styles of Alys Beach, Monkey White conjures feelings of an elevated yet laid back vacation in the tropics. Monkey White is named after Z Properties' official mascot, Monkey the Goldendoodle.
Hickory is the hardest North American wood we offer.  Its durability and unique grain pattern make it a very popular specie of wood for us.  The grain pattern is right between maple and oak making it a perfect compromise for people who want the timeless charm of oak but prefer something not quite as busy.
Specifications
Widths:
Solid – 5" and 6"
Engineered- 5" and 7"
Texture- Wire Brushed
Thickness- 3/4" Solid or Engineered Hardwood
Character - Unique Colour Variation with knots, mineral streaks and woodpecker holes.
Warranty- 40-Year Finish
Installation: 
Solid - On or above grade
Engineered- On, above, or below grade
Installation Method:
Solid - Nail and Glue Wide Plank Installation Method
Engineered- Nail, Staple, Float, or Full Glue
Ease of Installation- Medium
Maintenance- Medium
Waste- 6-8%
Janka Hardness- 1820