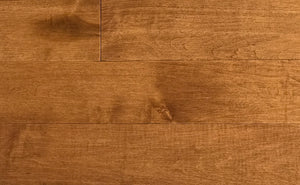 Maple Cognac Hardwood Flooring
WOOD ORIGIN:
Estate Collection
Regular price / Square Foot / Square Foot $10.25 / Square Foot Sale
This product is available.
The cognac stain is a warm neutral tone that has a timeless look to it.  It is a beautiful stain that can give off either a traditional or even modern look when paired with the right surrounding elements.
Specifications
Widths
Solid – 3-1/4" and 4"
Sheen- 13% Matte Finish, 25% Satin Finish             
Texture- Smooth
Thickness- 3/4" Solid or Engineered Hardwood
Character 
Prime Grade - Colour variation with no knots
Warranty- 40-Year Finish
Installation 
Solid - On or above grade
Installation Method
Solid - Nail or Staple
Ease of Installation- Easy
Maintenance- Easy
Waste- 5%
Janka Hardness- 1450