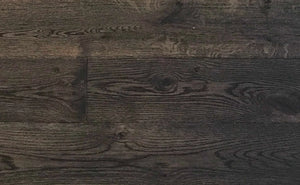 Wide Plank White Oak Hardwood Flooring Barn Board
WOOD ORIGIN:
Midtown Collection
Regular price / Square Foot / Square Foot $12.99 / Square Foot Sale
This product is available.
Barn Board  Flooring 
The Barn Board stain is a dark grey with cool undertones. This flooring was created to provide a "true grey" tone while maintaining a dark finish. This tone would suit a variety of decor styles and color palettes allowing any space to feel grounded. The knots and character combined with the wire-brushed finish make this a great choice if looking for a darker floor, while remaining low maintenance for busier households. 
Our Live Sawn is a specialty cut of wood we do which enables us to provide our clients with a very wide and unique hardwood flooring option.  It is sawn using the Old World European method and incorporates all aspects of the log's character, which results in beautiful grain patterns.  It is very rustic with large knots, and varying grain patterns including rift sawn and quarter sawn.  A large majority of the grain is quarter sawn giving it incredible stability which is the reason we can offer it up to 10" wide.  A 7" Live Sawn hardwood flooring board will shrink and expand roughly as much as a 4" plain sawn board making this floor the perfect option for a cottage.  For wide plank hardwood flooring we recommend a nail and bead glue installation. The live sawn is also a perfect floor for dogs and busy households. 
Specifications
Widths
Solid- 4", 6", 8" and 10"
Engineered- 7.5" and 9"
Sheen- 13% Matte Finish                
Texture- Wire Brushed
Thickness- 3/4" 
Character- Very rustic with large knots, checks, and splits.
Warranty- 40-Year Finish
Installation- 
Solid - On or Above Grade
Engineered - On, Above, or Below Grade
Installation Method- 
Solid - Wide Plank Installation Method
Engineered - Wide Plank Installation Method, Floating or Full Glue Down
Radiant Heat
Solid - Above Grade Wood Subfloor
Engineered - Above Grade Wood Subfloor or Concrete Subfloor
Ease of Installation- Medium
Maintenance- Easy
Waste- 10%
Janka Hardness on White Oak- 1360



Videos