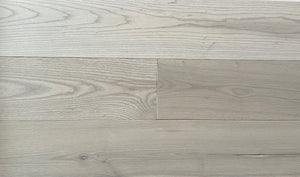 Ash Lombardy Hardwood Flooring
WOOD ORIGIN:
Beach House Collection
Regular price / Square Foot / Square Foot $9.99 / Square Foot Sale
This product is available.
Ash Lombardy Hardwood Flooring
Ash Lombardy Hardwood Flooring. One of the lightest stains available in our stain gallery. This stain mutes the ash natural wood tones giving a light, neutral floor. The goal in the creation of this stain is to give the wood an "unfinished" look with the durability of a finished floor. It's super versatile and could easily work well with all neutral/light decor or could be complimented by a moody dark space. 
Ash is very similar in look to Oak and slightly more durable.  It has a little bit more colour variation is warm and comforting.  The ash hardwod flooring is an excellent choice, as we are saving trees and repurposing ash trees that are being destroyed by the Emerald Ash Borer making it a Green alternative.
Specifications:
Widths - Solid – 3-1/4", 4-1/4" and 5"
Sheen: Wire Brushed- Matte 
*Looking for an alternative finish, connect with us to go over more options*

Texture-  Wire Brushed
Thickness- 3/4" Solid Hardwood
Character- Prime - Colour variation with no knots. 
Tavern - Colour variations with knots, checks & splits
Warranty- 40-Year Finish
Installation- On or above grade
Installation Method- Nail or Staple
Ease of Installation- Easy
Maintenance- Easy
Waste- 5%
Janka Hardness- 1320