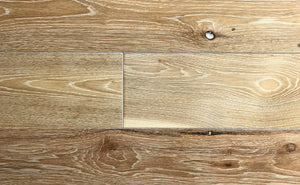 Hickory Champagne Hardwood Flooring
WOOD ORIGIN:
Beach House Collection
Regular price / Square Foot / Square Foot $15.49 / Square Foot Sale
This product is available.
Hickory is the hardest North American wood we offer.  Its durability and unique grain pattern make it a very popular specie of wood for us.  The grain pattern is right between maple and oak making it a perfect compromise for people who want the timeless charm of oak but prefer something not quite as busy.  
Specifications
Widths:
Solid – 5" and 6"
Engineered- 5" and 7"
Texture- Wire Brushed
Thickness- 3/4" Solid or Engineered Hardwood
Character - Unique Colour Variation with knots, mineral streaks and woodpecker holes.
Warranty- 40-Year Finish
Installation: 
Solid - On or above grade
Engineered- On, above, or below grade
Installation Method:
Solid - Nail and Glue Wide Plank Installation Method
Engineered- Nail, Staple, Float, or Full Glue
Ease of Installation- Medium
Maintenance- Medium
Waste- 6-8%
Janka Hardness- 1820