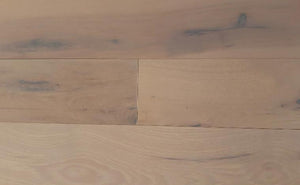 Hickory Naked Hardwood Flooring
WOOD ORIGIN:
Beach House Collection
Regular price / Square Foot / Square Foot $13.49 / Square Foot Sale
This product is available.
Hickory Naked 
Hickory Naked is one of the lightest tones we have available in the hickory. This naked stain gives the hickory a subtle, muted, unfinished look. It mutes the natural golden tones, softening the variation throughout this floor. It ranges in light beige to soft brown tones, and is an ideal choice if you are looking for a neutral floor. It works well in with that coastal vibe, modern farmhouse, or if you are going for more of a contemporary feel. 
Hickory is the hardest North American wood we offer.  Its durability and unique grain pattern make it a very popular specie of wood for us.  The grain pattern is right between maple and oak making it a perfect compromise for people who want the timeless charm of oak but prefer something not quite as busy.  
Specifications
Widths:
Solid – 5" and 6"
Engineered- 5" and 7"
Texture- Wire Brushed
Thickness- 3/4" Solid or Engineered Hardwood
Character - Unique Colour Variation with knots, mineral streaks and woodpecker holes.
Warranty- 40-Year Finish
Installation: 
Solid - On or above grade
Engineered- On, above, or below grade
Installation Method:
Solid - Nail and Glue Wide Plank Installation Method
Engineered- Nail, Staple, Float, or Full Glue
Ease of Installation- Medium
Maintenance- Medium
Waste- 6-8%
Janka Hardness- 1820