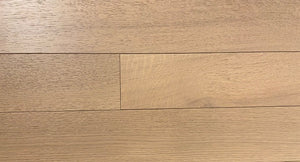 Quarter & Rift Sawn White Oak Flooring Lombardy
WOOD ORIGIN:
Beach House Collection
Regular price / Square Foot / Square Foot $18.50 / Square Foot Sale
This product is available.
Lombardy White Oak Quarter & Rift Sawn Hardwood Flooring 
Lombardy Oak was created in collaboration with design-build duo Zane and Emily Williams of Z Properties, a custom home builder based in Winter Park, FL. Our goal was to create a comfortable backdrop for our Clients with a large family. The clients wanted the modern white oak floors to have more hand feel, for the warm feeling under their toes. Lombardy is named after the stunning Z Properties' custom construction build on Via Lombardy in Winter Park, Florida.
Quarter & Rift sawn white oak is one of our specialty cuts. The grain pattern in the quarter sawn white oak is very tight giving it a cleaner, more uniform look than your traditional oak hardwood floor. The tight grain pattern in the quarter sawn white oak is created when the log is cut into quarters and then is sawn vertically.  This vertical grain not only looks stunning, but it provides some amazing stability making it an ideal choice for an array of situations. It is a great option of radiant heat as it expands and shrinks very minimally. Quarter and Rift Sawn White Oak is the ideal choice if you are looking for something cleaner to provide a minimal feel to your home.