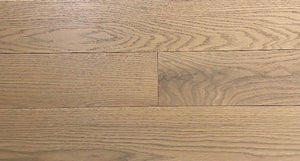 Red Oak Lombardy Hardwood Flooring
WOOD ORIGIN:
Estate Collection
Regular price / Square Foot / Square Foot $10.50 / Square Foot Sale
This product is available.
Lombardy Oak was created in collaboration with design-build duo Zane and Emily Williams of Z Properties, a custom home builder based in Winter Park, FL.  Lombardy is named after the stunning Z Properties' custom construction build on Via Lombardy in Winter Park, Florida.
Specifications
Widths 
Solid –  2-1/4", 3-1/4", 4" and 5"
Engineered- 5"
Sheen-13% Wire Brushed-Matte
Texture- Wire Brushed 
Thickness- 3/4" Solid or Engineered Hardwood
Character- All red oak is prime grade, minimal colour variation and no knots
Warranty- 40-Year Finish
Installation 
Solid - On or above grade
Engineered- On, above, or below grade
Installation Method 
Solid - Nail or Staple
Engineered- Nail, Staple, Float, or Full Glue
Ease of Installation- Easy
Maintenance- Easy
Waste- 5%
Janka Hardness- 1290
More Information