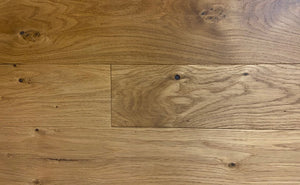 White Oak Natural Rustic Grade Matte Finish
Gaylord Hardwood Flooring
Regular price / Square Foot / Square Foot $6.99 / Square Foot Sale
We have 1350 square feet in stock.
White Oak Natural Rustic Grade Wire Brushed Matte Finish
White Oak Natural is one of our best sellers. Natural flooring is the wood in it's natural form, with a wire brushed and matte finish. This gives it some texture that easily hide potential scratches, dents, dirt, and dust. The natural tone is light, with some golden hues that highlight all the natural character. It is a versatile stain that can lend itself to traditional, rustic, or work in a modern farmhouse setting. 
Specifications:
Lengths- Up to 84" (Average 20-28")
Width - 4"
Sheen-  Matte
Texture - Wire brushed
Thickness- 3/4" Solid Hardwood
Grade - Country - Colour variation, with knots, checks, and character throughout. 

Installation- On or above grade
Installation Method- Nail or Staple
Ease of Installation- Medium
Maintenance- Easy
Waste- 5-7%
Box Size - 18.75sf/box